Commercial Moving Services for your Alberta Business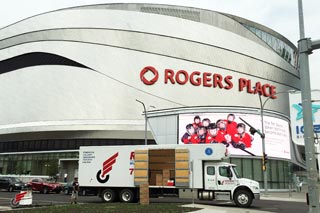 We're experienced Edmonton office movers that will be happy to help your company with a commercial move in Edmonton, St. Albert, Sherwood Park and surrounding areas. Big, medium or small, our commercial moving experts can handle any sized move.
More than just transporting your equipment from point A to point B, Right Move can plan your move as we are also office moving consultants. We know that your work cannot stop during your office's relocation. That's why we offer off-hours moving services to minimize interruptions to your business; we can perform your move during evenings and weekends
Before loading, and transporting your office equipment, our commercial moving experts can also disassemble office furniture, cubicles, and workstations. At your company's new location, and after unloading, we can also unpack and assemble your work environment.
Gallery
Frequently Asked Questions About Office Moves
1) Can you guys move my BBQ?

A: Yes, we can move your BBQ, but not your propane or other gas tanks. Also, make sure that your BBQ is clean and has it's protective cover, otherwise there's going to be a mess and your other items will get dirty.

2) I live in an apartment building, can I reserve the elevator for the move date?

A: You should be able to. Talk to the superintendent / manager of the building and let them know that you'd like to book elevator access for your moving date. Confirm that it's reserved. The move will take longer and be more expensive if the movers can't use the elevator.

3) Do you move potted plants?

A: Yes, but because of extreme cold or heat, it's probably not a good idea if your plants are sensitive or fragile.

4) To speed things up, can my Uncle Buck & Aunt Shirley help with the move? They're very strong!

A: They can certainly help you pack and move your items using their own truck. Our expert movers function best as a crew. They'll know in what order to best pack, load, and fill our moving trucks. Thanks for the offer, though.

5) Can I ride upfront with you in the moving truck?

A: Sadly, no. There are legal and insurance reasons why we can't allow that. You can ride with Uncle Buck & Aunt Shirley.